Environmental and energy research studies focus on emerging technologies that help to reduce water usage and waste generation, while also facilitating the recovery of waste heat and value-added byproducts from processing operations.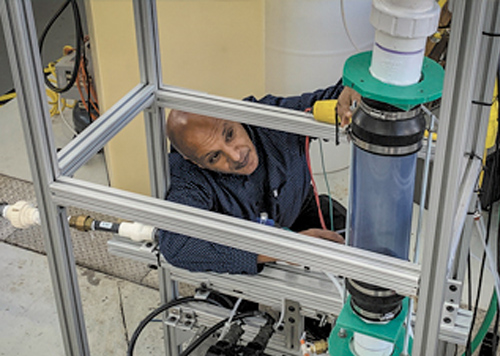 Dynamic Filtration System: Novel Separation Technologies for Poultry Processing Liquid Streams
ATRP researchers are addressing methods to improve solids separation performed by primary and secondary mechanical screens with a research focus on 0.01 inch (~300 micron) and below sieve sizes. Because the team has successfully demonstrated a dynamic filtration method that can extend filtration beyond secondary screening, current work is focused on ranges below 0.004 inch (<100 micron) for decreasing product contamination or adulteration.
The Dynamic Filtration System can be programmed to optimize water recycle and value-added product recovery on demand. Because the innovative approach allows more frequent and targeted backwashing, higher flux rates can be obtained for extended periods of time. The system is also designed to enable water reuse and recycling as well as resources recovery, a poultry industry goal that has evolved with the industry's growing focus on corporate social responsibility and sustainability.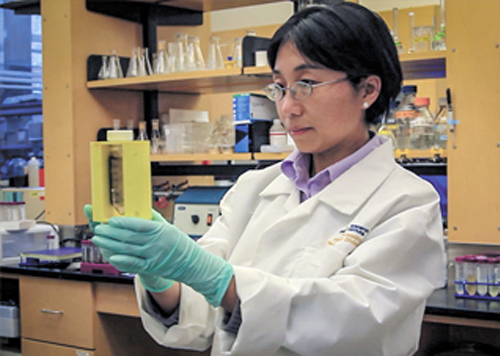 Phosphorus Removal/Recovery Using Magnetic Nanoparticles
Excessive phosphorus in wastewater discharge from poultry processing plants can degrade water quality and harm aquatic life in adjacent waterways. This makes effective wastewater treatment to remove the phosphorus in effluent a top priority for poultry processors. Chemical precipitation is the removal method used by most processors, but it is expensive and results in the production of sludge, which must be disposed of, further adding to treatment costs. Novel technologies such as nanomaterials are now being studied as potentially low-cost and environmentally friendly wastewater treatment alternatives.
ATRP researchers have developed a magnetic nanoparticle (MNP)-based phosphorus removal method. It uses a proprietary MNP to capture and then remove phosphorus from poultry processing wastewater.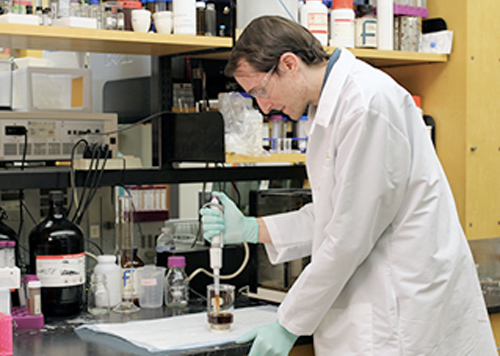 Removal of Free Fatty Acids from Rendered Oil
The rendering industry as a whole is focused on capturing and processing poultry and other protein byproducts for conversion into valuable product streams like animal feed. The byproducts, called secondary protein nutrients, have a high oil content, but also contain large amounts of free fatty acids (FFAs). In bulk, FFAs accelerate the oxidative process, resulting in a lower overall oil quality defined by shortened shelf life, malodor, and decreased nutritional value.
To address this challenge, ATRP researchers have developed a low-cost and efficient way to remove FFAs from the rendered oil. The novel extraction method is based on the principle of chemisorption and the use of functionalized magnetic nanoparticles (MNPs).